Low ceilings with no architectural details to salvage, this powder room space was not much more than a closet.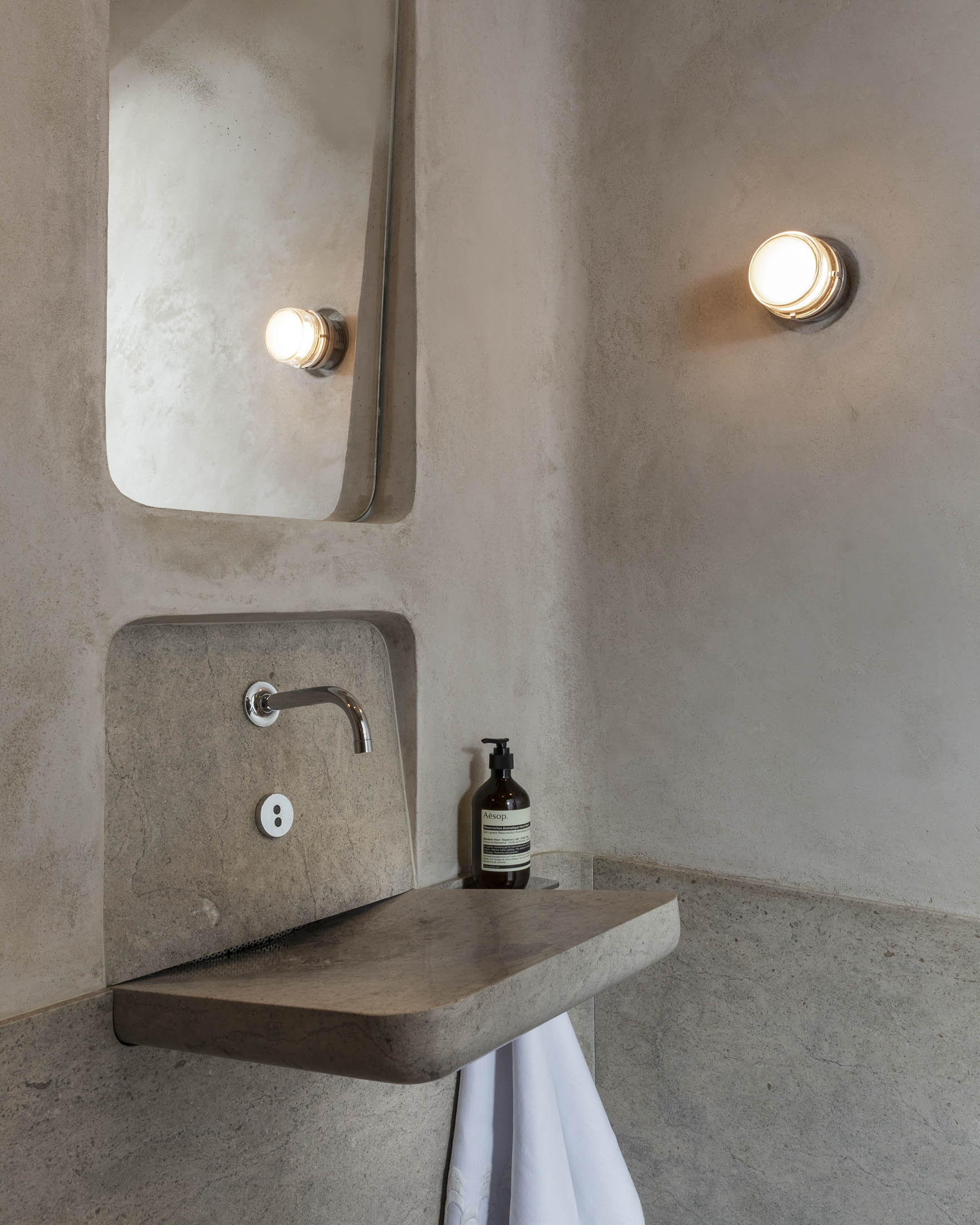 The challenge was to make this enclosed space feel larger. Inspiration came from a simple Roman fountain, with execution and detailing inspired by trips to Rome and Milan.
The result is a self-contained, immersive space that is quiet, reflective, and exquisite… almost the "anti-jewel box" powder room. Like many of our projects, the design focused on the confident handling of materials, the detailing which is revealed in the soft light animating the space.
Trick the senses.
The rounding of all inside corners not only highlights the materials' thickness but also results in a lack of shadows. Our peripheral vision, lacking the vertical shadow lines that define space, is tricked into perceiving the space as bigger, like the work of James Turrell; light-blurring spaces to immerse the senses.
Blurring boundaries.
An ombre mirror, set at an angle into the wall, slowly fades to wall color, making the two blend together. Setting the mirror into the wall reveals the depth of materiality, and the angle catches the sunlight from the hallway window and directs it down into the room. I've noticed this effect of light often in Europe, where the detailing of windows is more complex and compelling.
About the Project
The dynamic Push and Pull of our design took advantage of the skills of our collaborators. We recessed our sink, backsplash, mirror, and wall sconces into the wall. We rounded out the corners of the stone wainscot, plaster walls, and door casings. The pièce de resistance is our cantilevered sink. Not just a simple piece of stone fabricated in Italy but a complex locally manufactured metal system that incorporates structural support with in-wall drainage, a plumbing design requiring multiple trips to the building department for approval.
Details continue throughout the room. An Inside-Out table flips expectations: the precious, waxed, and polished Rosewood shelf is tucked into the interior, and simple, lightly finished Ash (often used on the interior of fancy furniture) is featured prominently on the exterior. Embroidery on linen hand towels echoes the curve of the table, and a polished stainless steel soap dish reveals the talent of our metalsmith.
Credits
Interior Design: David Bjorngaard
Construction: Matarozzi Pelsinger Builders
Photography: David Duncan Livingston